Coastal Service Program is back! Check the calendar below for signup opportunities.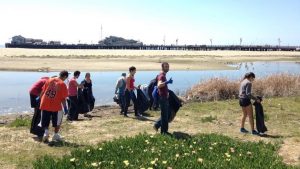 Thank you for your interest in the Coastal Service Program! Coastal Fund supports this program as a way to connect students with their local environment and raise money for their UCSB student organizations. To participate, simply review the guidelines below and the calendar of available events, decide which event your group is interested in, and fill out the sign up form. The Coastal Service Program Coordinator will contact you shortly. Please note that events for each quarter will be added to the calendar during the first week of that quarter.
Coastal Service Program Guidelines:
Only organizations that are currently registered with UCSB's Office of Student Life are eligible to participate, and organizations may only participate once every other quarter.

Groups

must provide at least 10 participants

to receive funding ($100 for beach clean ups, $200 for a restoration project). Funding will be deposited directly into your group's OSL account, and processing may take a few weeks.

The Coastal Service Program Coordinator will contact you within a few days of your request and will confirm your dates with you. While we do our best to accommodate your request, all assignments are done on a first come, first serve basis and are subject to availability.

Your dates are not confirmed until you respond to this email.

You will receive a reminder email with additional details the week before your event.

Supplies and forms will be left outside of the Coastal Fund Office (Room 2521 in the MCC) for you to pick up on the Friday before your event. All material and pictures from your event must be returned to Coastal Fund by the following Tuesday in order for funding to be granted.

Because the Coastal Service Program provides funding to participating organizations, it is considered a fundraising program and not a volunteering program.

We therefore cannot sign off on volunteer hours for any event

; doing so while also distributing funding would be considered double counting.

Groups that cancel with less than a week's notice, do not show up for their event, or do not return supplies or paperwork will not receive funding and will not be eligible for participation in events for one year.

Cancellations due to weather will be rescheduled if possible.
Any questions should be directed to coastalfund(at)as.ucsb.edu
I've read the guidelines and want to sign up.