Coastal Fund Board of Directors and Staff 2019-20
To view a list of Coastal Fund alumni, click here.
Board of Directors 2019-20
| | |
| --- | --- |
| Jeremy Francoeur | Board Member, Chair |
| Kate McLeod | Board Member, Undergraduate Representative |
| Cyrus Kahan | Board Member, Undergraduate Representative |
| Mike Martin | Board Member, Undergraduate Representative |
| Karen Thornton | Board Member, Undergraduate Representative |
| Phoebe Racine | Board Member, Graduate Representative |
| Laura Ingulsrud | Board Member, Graduate Representative |
Staff 2019-20
| | |
| --- | --- |
| Sarah Siedschlag | Advisor |
| Anushna Patel | Outreach and Education Coordinator |
| Katherine Fukuda | Outreach and Education Coordinator |
| Carissa Stewart | Administrative Assistant |
Jeremy Francoeur
Jeremy is a third year undergraduate pursuing a B.S. in physics at UCSB. Growing up in Newport Beach allowed him to nurture a dependency on (some might say downright addiction to) the ocean, and when he's not in the water he's probably running or reading on the sand. Jeremy intends to translate his understanding of natural phenomena to the technological realm, specifically to renewable energy. In his free time, he enjoys painting, writing, and slapping the bass so as to express himself to his fullest potential – or maybe just to take his mind off of midterms.
---

Kate McLeod
Kate McLeod is a second year student at UCSB pursuing her bachelor of sciences in environmental studies. She grew up in coastal Humboldt County, CA, next to Redwood National Park. She has been raised hiking in the local forest and exploring the cold NorCal beaches, and has loved finding a new home on the Santa Barbara coastline. She is a passionate lover of cooking and summer sunsets, and hopes to do her part to keep the Pacific beautiful in both of the places she is lucky enough to call home.
---
Cyrus Kayhan
Cyrus is a third year Environmental Studies (B.A) major from the coastal town of Pacifica, California. His passion for the environment, specifically the ocean, blossomed out of his love affair with riding waves. Through his studies he hopes to further healthy relationships between humans and the environment. Apart from surfing and studying, you may find Cyrus foraging for fruit around I.V. and UCSB or restoring the salt marsh at NCOS as a restoration worker for CCBER.
---
Mike Martin
Mike is a third year Biology major here at UCSB. Having grown up in Monterey, he prefers to spend his free time exploring nature, both free diving and backpacking along the Big Sur coastline. However, here at school, he can typically be found studying at the library. Mike just returned from studying Irish history in Dublin last semester and upon graduating, plans to go to Medical School.
---
Karen Thornton
Karen is a 4th year Aquatic Biology major from Los Altos, CA. When she's not hanging out with her friends on the beach, she is playing water polo with the UCSB Women's Club Water Polo team. She enjoys interning with Santa Barbara Channelkeeper and leading kayak tours through the UCSB Adventure Programs. During the colder months you'll find her on the mountain, getting in as many ski days as possible!
---
Phoebe Racine
It turns out that people care more about the environment if you can put it in the context of what's on their plate. Learning this in her freshmen year of college, Phoebe decided to dedicate her life to advancing food systems, specifically aquatic. Now a third year PhD student at The Bren School, she spends most her days thinking about large-scale marine aquaculture. Beyond work, you can find Phoebe making bad puns, in the water, at the rock gym, thinking about food, making food or eating food.
---
Laura Ingulsrud
Laura has lived in Santa Barbara for the past 10 years, but grew up in Sacramento and Tokyo. She moved here to get an Environmental Studies degree at UCSB, quickly fell in love with the central coast, and stayed to work as a sailing instructor and environmental consultant before going back to grad school. She is now a 2nd year masters student at the Bren School of Environmental Science & Management with plants to pursue a career in marine conservation. Laura spends her free time playing in the ocean, obsessing over whales, and enjoying good food with friends.
---

Sarah Siedschlag
Sarah serves as the staff advisor for several groups within Associated Students that focus on sustainability and the environment, including Coastal Fund. She moved to Santa Barbara in 2009 to pursue a master's degree at the UCSB Bren School of Environmental Science and Management, and liked it so much she never left. She enjoys gardening, cooking, and posting pictures of her cat on the internet.
---
Anushna Patel
Anushna Patel is currently an undergraduate Aquatic Biology major and English minor at UCSB. She grew up in San Jose and loves the Bay Area for its variety of coastal hiking trails. As much as she loves everything marine related, she has an equal passion for literature. Particularly, she loves poetry concerning nature, seeing as she can often be found going on adventures with her dog, Buddy. Anushna hopes to combine her love for both science and writing to pursue a career in science journalism and bring awareness about the environment to the general public.
---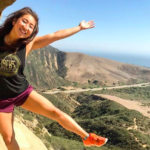 Katherine Fukuda
Katherine Fukuda is a third year Film and Media Studies major, and an Asian American Studies minor. As a southern California native, she enjoys paddle boarding, surfing, hiking, and working out. With her position as Outreach Coordinator, she hopes to help conserve the beautiful coastline she has grown to love and enjoy.
---
Carissa Stewart
 Carissa is a first year at UCSB and is pursuing a bachelor of arts in communication. She has always loved the ocean, but really got interested in preserving the environment and our coast after taking an Advanced Placement class in environmental science. She is so happy to be able to do her part even as a non-stem student and feels so lucky to be living in beautiful Santa Barbara.