Bee Projects Currently Going on at UCSB!
California is very rich in bees and we recognize nearly 160 species at UCSB and the surrounding area! While bees are critical to sustaining a large proportion of global food production, as well as pollinating both wild and cultivated plants, they are decreasing in both numbers and diversity. Our understanding of the factors driving these declines is limited, in part, because we lack sufficient information on the distribution of bee species to predict changes in their geographic range under climate change scenarios. Additionally lacking is adequate data on the behavioral and anatomical traits that may make bees either vulnerable or resilient to human-induced environmental changes, such as habitat loss and climate change. We are tackling these questions at UCSB's Cheadle Center for Biodiversity and Ecological Restoration by surveying our local bees, imaging bees in the UCSB Invertebrate Zoology Collection, and advancing conservation and education.
Katja Seltmann, the Director of the Cheadle Center and an entomologically minded data scientist, studies bees and other Hymenoptera (e.g., bees, wasps, ants). The Coastal Fund has supported several bee projects that help understand and conserve our local bees and are either led by students or are designed to significantly include students. UCSBees, Plan Bee, and Santa Cruz Island Trips for Undergraduate Bee Researchers are just a few recent efforts. UCSBees is surveying our campus and surrounding areas by conducting studies on the bees and the plants they pollinate. Plan Bee is educating our community about bees and certifying UCSB as a Bee Campus by the Xerces Society. Santa Cruz Island Trips for Undergraduate Bee Researchers specifically funds undergraduate students on collecting trips to our largest of the Channel Islands. If you are interested in bees, bee research, or bee outreach and education please reach out and get involved!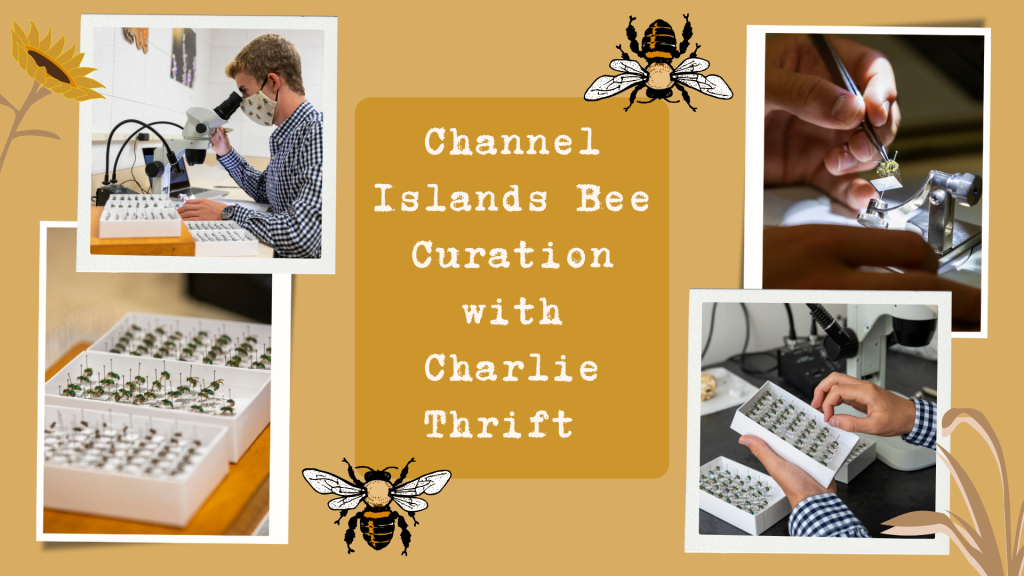 Exciting bee work is happening at UCSB's Cheadle Center for Biodiversity and Ecological Restoration (CCBER) with the undergraduate curation and research in CCBER's invertebrate zoology collections. These ever-growing collections are responsible for the most up-to-date bee surveys and insect diversity lists for our own backyard, including coastal areas such as Santa Cruz Island, UCSB North Campus Open Space, and Coal Oil Point Reserve. Even with new collection efforts, we can't know what we have unless it is properly cared for, curated, and databased.
Transforming collected insects from their spot in mixed vials to well-curated and cared for specimens—sources of education and invaluable data, protected in perpetuity—is a multi-step process. To the right person, it's also incredibly fascinating. Two undergraduate students have been funded through this project, and have learned and honed their skills in washing bees, drying them with hair dryers and paintbrushes, identifying them under a microscope, and facilitating bee research worldwide. Coastal Fund has helped undergraduates in this pursuit by funding many of their internships.  CCBER's data is publicly available, and is used by many scientists for a variety of projects, including students at CCBER. One current undergraduate-driven bee research project seeks to identify populations of bees with images of their wings, and another seeks to redesign the way we find and map insects of interest in coding scripts.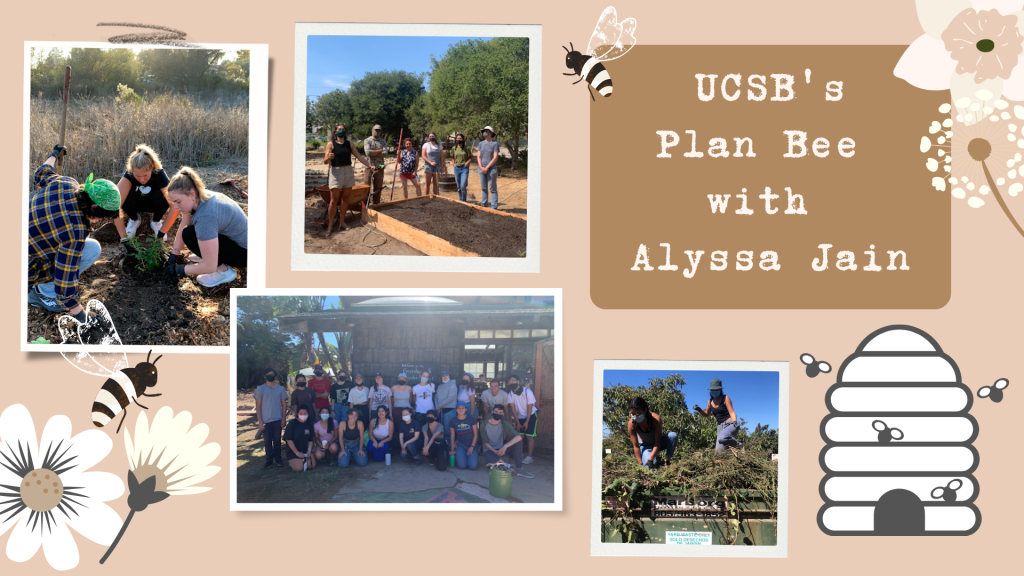 Plan Bee began in Fall 2019 as an Environmental Leadership Incubator project to conserve native bees around campus through habitat creation and raising public awareness. To create new pollinator habitats, Plan Bee has collaborated with several campus and local organizations. Early last summer, Plan Bee partnered with St. Michael's University Church to create a new pollinator garden; faculty, staff, and student volunteers worked together to build raised beds and plant native shrubs that attract local pollinator species! And, this past fall, Plan Bee and the Greenhouse Garden Project hosted several volunteer workdays to weed, mulch, and plant another pollinator garden at the Greenhouse Garden Project. As these two gardens grow and provide much-needed habitat for native bees, Plan Bee is excited to continue creating new pollinator habitats around UCSB. 
In addition to habitat creation, Plan Bee has been working to make UCSB a certified Bee Campus USA through the Xerces Society's certification program that recognizes campuses for committing to pollinator conservation. In preparation for this, UCSB created a Bee Campus USA committee to oversee conservation efforts, bringing together students passionate about native bee conservation, staff members working on landscaping and restoration on campus, and faculty specializing in pollinators, agriculture, and environmental studies. With support from Chancellor Yang and the Chancellor's Sustainability Committee, UCSB submitted its application and was recently approved as the newest Bee Campus USA! As a Bee Campus affiliate, UCSB will maintain and create pollinator habitat, host educational events to raise awareness about the importance of native bees, and offer more service-learning opportunities for students to get hands-on experience with pollinator conservation. 
To learn more and get involved, visit UCSB's bee campus USA website, created by Plan Bee's website intern Isabella Puchkova at https://www.ccber.ucsb.edu/bee-campus and check out @UCSBPlanBee on Instagram!
~ Picture Credits to Charles Thrift, Alyssa Jain, and CCBER ~